Brutal attack on a Savé Valley Conservancy Rhino
Please be warned these images are very real, and very gruesome. We are truly angered at this as you may well imagine
This Black Rhino was found wondering around the Conservancy last week, by scouts who reported a severely wounded animal. Rangers were immediately dispatched to assess the situation and discovered that the Rhino had indeed been poached. It had been shot several times and had gone down unconscious. They then cut out the horns and presumably left the animal for dead.
Vets were contacted and arrived in quick time to attend this poor animal. Their decision was to try and save the animal by darting and treating it in the field. Masses of antibiotics have been administered in the hope that the wound will heal over. This is an horrendous wound, and we have our doubts. However having said that, the animal has had a desperate fight for survival and is eating normally, so we are hoping he has a chance.
What is of concern also, is the fact that he was dehorned last year. The re-growth of his horn could only have been a fraction of what it was before dehorning, but it goes to show how desperate and determined these poachers have become. We are at war with these poachers, and still there is reluctance on behalf of the Authorities to provide us with suitable weaponry to protect our national heritage and assets!!
The Black Rhino's name is Maduma and he is being monitored daily now and its progress and recovery will be recorded. We will keep you updated.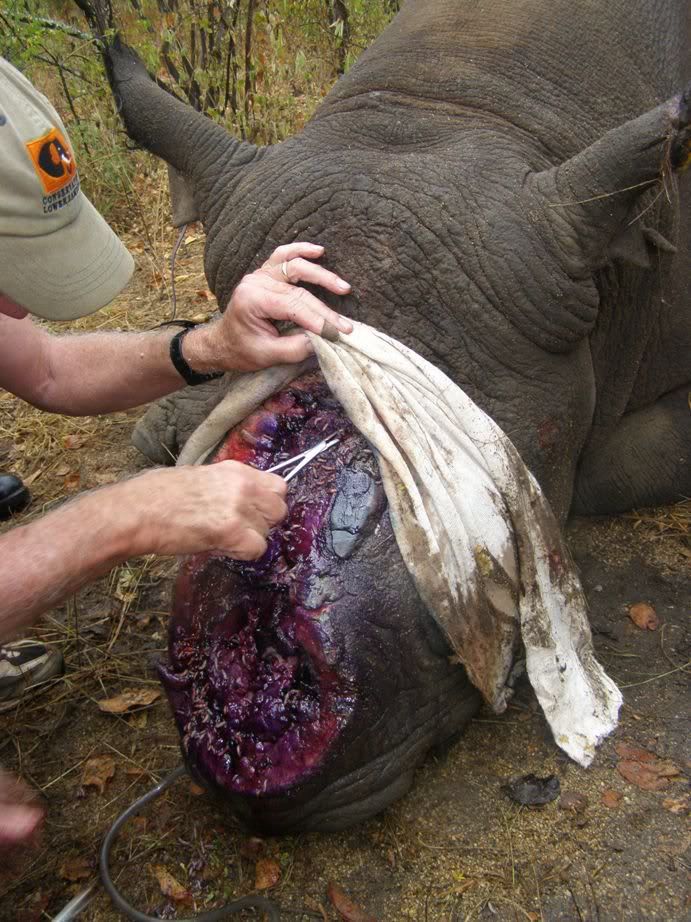 More shocking news I am afraid. This rhino bull was shot a number of times, stunned and left for dead. But not until the poachers had chopped off his horns. Yes, this animal is still ALIVE. Here vets do all they can to try and save it. How it survived this brutal attack is a miracle, but its long term chances are small. The only plus sign is the fact that it is eating normally, despite its horrendous injuries.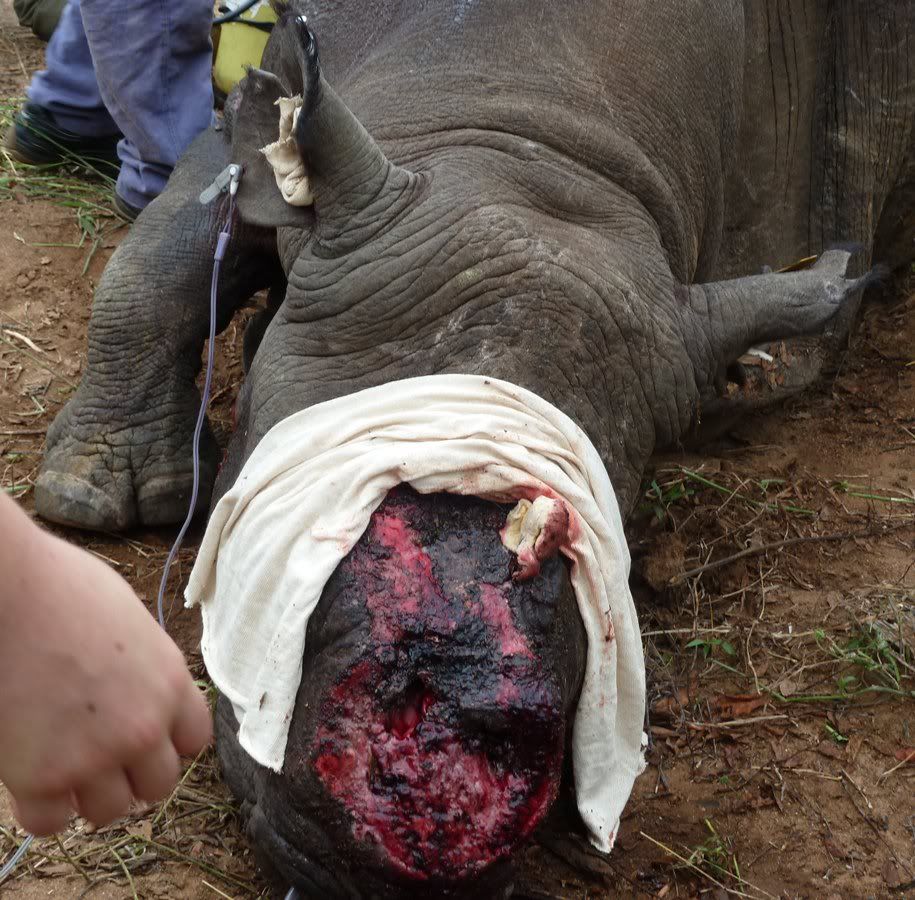 Nearly two weeks on. Re-darted for further assessment and treatment by wildlife vets. Good and amazing progress considering the shocking injuries suffered by this poor rhino (shot and left for dead after poachers chopped off his horns).
A close up of the terrible injury inflicted by poachers. Good news is that it is healing nicely as of 25/04/11, and that the rhino is eating and drinking normally. Note the hole in the nasal cavity on the left, through which he is breathing. He also suffered two bullet entry wounds to the left shoulder, one in the chest and another in the jaw (fortunately not broken). This rhino has courage! Close monitoring continues daily.
SEE HERE¬
Savé Valley Conservancy
Visit Website